Newsroom
Announcements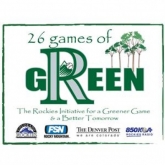 Rockies Games of Green
Thursday, August 4
Over the course of 30 games this season the Rockies along with media partners ROOT SPORTS, 850 KOA and The Denver Post will be enlisting players and fans toward making a positive impact on the environment through the "2011 Games of Green" initiative.
The 30 games are Sunday, Monday, Tuesday and Wednesday games throughout the season. The dates are April 3 (rainout, so make-up game May 24 at 1:05 p.m.), April 18, May 1, 9, 15, 16, June 13 and 19, July 3, 17-20, August 1-3, 7, 15-17, 22-24, Sept 5-7, 11, 18-20.
"Green Packs" will be available for all of the Green Games. They are $24 and include two tickets. $5 of each pack sold goes toward the "Wood for Wood" program which plants one tree in the Denver area for every Rockies home run hit during these 30 games.
Check our calendar pages for Green Games!