Programs
Ooze Tubes
Ooze Tubes available for Trees for Envergy Savings participants
We are offering an innovative watering device to help you get your tree established, free of charge. To learn how to install this device scroll down.
Step 1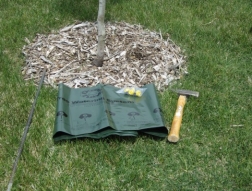 Make sure are is free of any sharp objects and un-package the Ooze Tube. You will have the following items: 1 wooden stake, 1 Ooze Tube, 2 dripp emitters, and 1 nail.
Step 2
Pound the wooden stake into the ground just out side of the mulch ring.
Step 3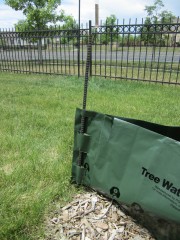 Lace the Ooze tube over the stake. Be sure tha the filling opening is facing up.
Step 4
Fill the Ooze tube with water. Please note that the tube does not seal. If it is overfiled, water will leak out of the top.
Step 5
Use the provided nail to poke a hole in the underside of the Ooze Tube.
Step 6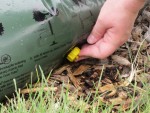 Insert the drip emitter into the nail hole. Repeat poking a hole and inserting drip emitter on the oposite side of the the Ooze Tube.
Step 7
Refill your Ooze Tube in about 14 days.