Who We Are
About Us
The Mile High Million
During the 2006 annual State of the City address, then Mayor John Hickenlooper announced an ambitious tree planting program with a goal of adding one million new trees in metropolitan Denver by the year 2025. The initiative aimed to engage and motivate individuals to become life-long stewards of our natural environment through planting and caring for trees. The end result would be a healthier and more extensive urban forest, creating more inviting places to live, work and play. Now under Mayor Michael Hancock's leadership, The Mile High Million is evolving into an initiative to engage the Denver community in not only planting trees but also caring for Denver's urban forest of millions of existing trees -- 2.2 million trees to be exact.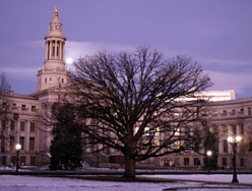 This 60-year-old Bur Oak tree in Civic Center Park exemplifies the majesty of this former native, which thrived on Colorado's plains during the last ice age. When temperatures warmed, the species migrated north; however, it remains well-adapted to our present day climate. Credit: Jim Myer, Denver Forestry.
A Denver Community Effort
The Mile High Million brings the vision of a sustainable community directly into our neighborhoods and public spaces- aiming to foster community stewardship among individual citizens, neighborhood organizations, schools, nonprofits and businesses by supporting the planting and care of trees. The initiative is dedicated to creating partnerships and sponsoring work that helps connect people with nature and to each other.
Why Trees?
Trees are a gateway to creating sustainable communities. They clean our air, produce oxygen and beautify our neighborhoods. Trees provide natural cooling to buildings and pavement, resulting in lower energy bills and increased longevity of street surfaces. Trees yield additional economic benefits such as enhanced real estate values, higher sales in business districts and increased productivity among employees. Research even links trees to important social benefits such as reduced crime, higher test scores, and faster hospital recovery times.
Join Us!
Each one of us can make a difference in our community by investing in its future. Every tree planted and cared for contributes toward The Mile High Million goal of supporting a healthy denver urban forest. The public is encouraged to participate by planting trees and/or volunteering time to local tree planting and stewardship efforts.
Be One in a Million by planting a tree today, then make your tree count by registering it toward The Mile High Million!